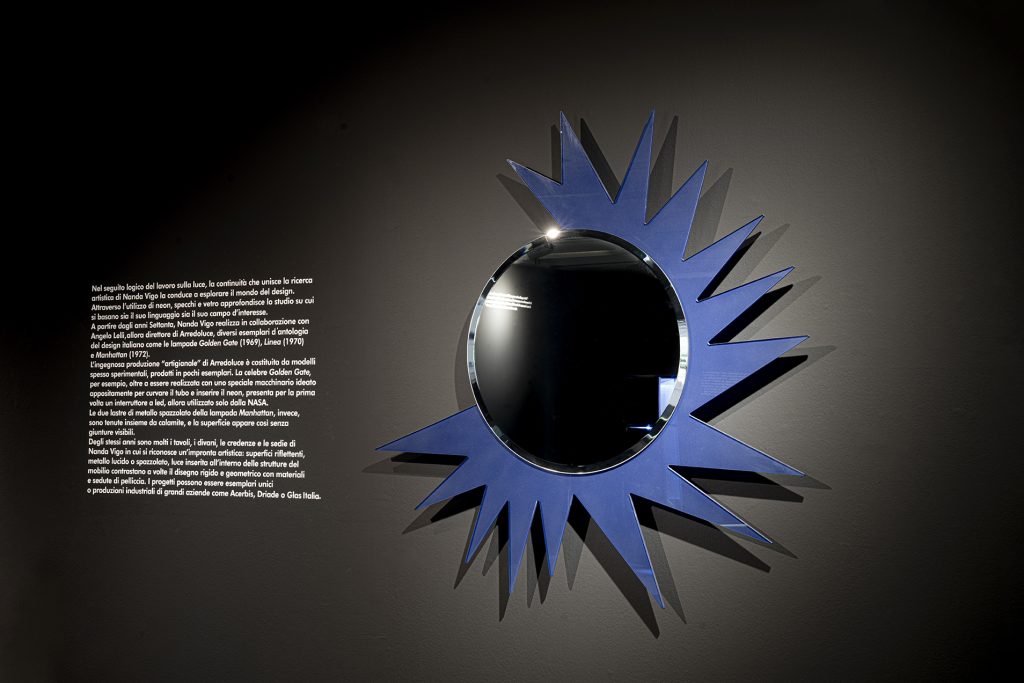 Incontri ravvicinati
Arte, Architettura, Design
Nanda Vigo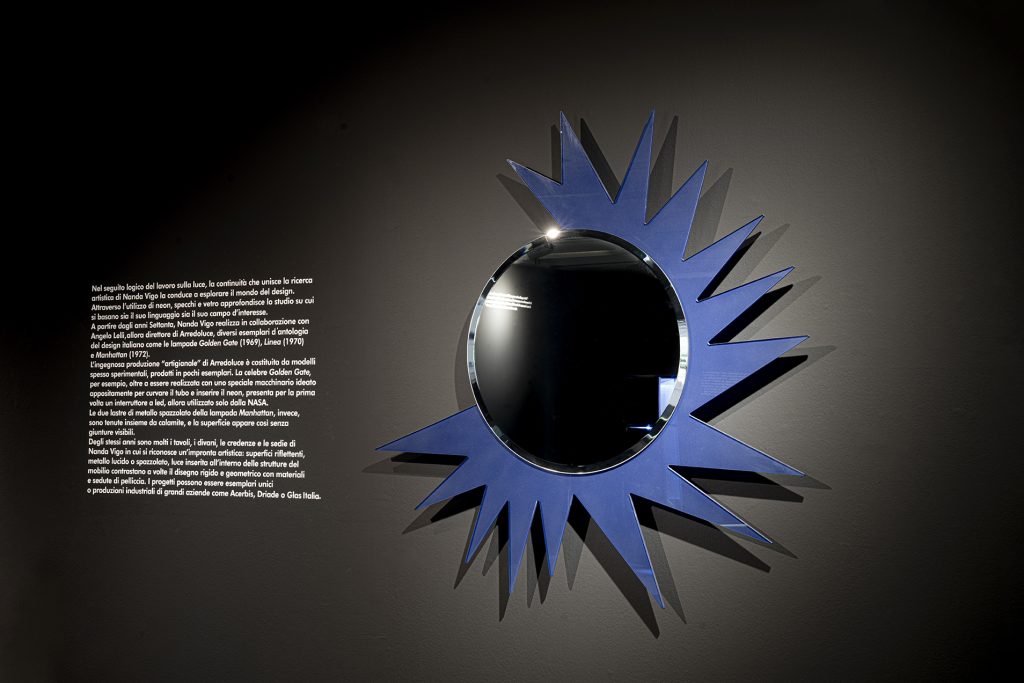 OPENING
Saturday 4th September 2021 h 3 pm – 9 pm
5th September – 1st November 2021
The Fondazione Sozzani presents the exhibition "Nanda Vigo, incontri ravvicinati – close encounters Art, Architecture, Design" in collaboration with Archivio Nanda Vigo, Luca Preti and Glas Italia.
Lively and curious, Nanda Vigo (Milan, 1936 – 2020) was an architect, artist and designer: a leading figure of the Milanese and European cultural context in the 1960s, yet her own vision clearly aimed at the future – almost a spatial future, even in the 2000s.
The exhibition is divided into three sections dedicated to as many distinct but intertwined areas, with rare prototypes and unique pieces. Through her art, architecture and design, the exhibition is a journey through space and time, where each work inhabits a unique environment and is faced with space, time, and light.
The first area presents Nanda Vigo as a "master of light", with one of her most famous artworks:
the "Ambiente cronotopico" ("Chronotopic Environment") of 1968. Her "Ambiente cronotopico'', bright and transparent, reflects the theme she explored with Lucio Fontana in collaborative works from 1964-1968. It represents the immersive idea of light as a journey. A metal structure with sheets of transparent industrial glass: the light is the element that unifies time (chrono) and space (topical). "What am I inspired by? By the light. Light is crucial for shapes, for objects, for a total setting. Light goes and has no dimension, and makes you travel so far…" …"1
The second section is focused on architecture, through some historical pieces. Vigo's collaborations with Gio Ponti began earlier. Together they created the project of the house "Scarabeo sotto la Foglia" in Malo (Vicenza, from 1958 to 1968), where the center is represented by a nuptial bed, as a primal hall in the "Genesis". The first of her immersive architectures, the "ZERO House" in Milan (1959-1962), is a house of light with inner frosted glass walls, whose
system of colored neon lights alter the common perception of space, as in the projects of the Casa Blu (Milano, 1967-71), Gialla (Milano, 1970-1971) e Nera (Milano, 1970).
The third area reflects the complexity of Nanda Vigo's research as a designer: from her famous mirrors, to "Due Più" chairs (1971) whose surprising furs transform a normal chair into an intergalactic spacecraft's command chair. The journey through her time and space is brought to completion by the light games, from the historic "Golden Gate" lamp up to the Hard & Soft collection, the last complete collection created as an immersive environment in 2019. Reflecting
on her career, Vigo said: "I was following the vision of the great Gio Ponti; he approached space in a global way, from the small spoons to the art. I always saw architecture, design, and art together as one in my projects."
On the occasion of the exhibition, Glas Italia, the company historically linked to Nanda Vigo, has re-edited the table and mirror of the Andromeda series.
1 – Nowness video interview, 2020
---
Fondazione Sozzani
Corso Como 10
Milano
5th September – 1st November 2021
All days, 10.30 am – 7.30 pm
Thursday and Tuesday, 10.30 am – 9 pm
---