Tomás Maldonado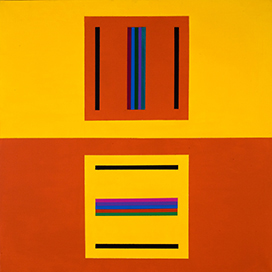 Born in Buenos Aires, Argentina, in 1922, he studied at the Buenos Aires college of art. Until 1954 he played a leading role in the field of Argentinean art, architecture, and industrial design. From 1943 to 1954 he took an active part in the Arte Concreta movement. From then on his art works were exhibited in numerous shows in Buenos Aires, Santiago de Chile, Amsterdam, New Delhi, Caracas, Mexico City, Bogotá, New York, Bergamo, Milan, Madrid, Zurich, and are to be found in important public and private collections in Argentina, Switzerland, Germany, the United States, Venezuela, and Italy.
From 1954 to 1967 he lived in Germany where he was Professor at the Ulm Hochschule für Gestaltung (the High School for Architecture), of which he was also Rector from 1964 to 1966. During his residence in Germany he undertook a vast activity of teaching and research in the area of industrial design. In this period his theoretical interests were oriented not only to design methodology, but also to themes concerning communicational disciplines (linguistics, semiotics) and the philosophy of science and techniques, which led to a wide and varies production of essays.
From 1966 to 1967 he was Visiting Senior Fellow at the Council of Humanities at Princeton University, U.S.A., and Visiting Professor at the School of Architecture at the same university from 1967 to 1968, and then from 1969 to 1970. In 1989 he was Visiting Lecturer at the Graduate School of Architecture, Planning and Preservation at Columbia University (U.S.A.), Visiting Lecturer at the School of Architecture and Planning of the University of Buffalo (U.S.A.) and at the College of Design, Architecture, Art and Planning of the University of Cincinnati (U.S.A.).
He moved to Italy in 1967. From 1976 to 1984 he was full professor of environmental planning at Bologna University. In 1984 he taught in the Faculty of Architecture at the Milan Polytechnic, where he remained until 1997. From 1998 he was emeritus professor there.
He has been awarded many prizes and honours, the principle ones of which were: 1968, the Design Medal of the Society of Industrial Artists and Designers (SIAD), London; in 1992, the Design History Society of Britain invited him to give the Fourth Banham Memorial Lecture at the Victoria & Albert Museum, London; in Italy, in 1998, he received the Compasso d'Oro Career Award; in 2012 the President of the Italian Republic awarded him the county's highest honour for excellence.
Among his theoretical writings, mention should be made of: La speranza progettuale, 1970; Avanguardia e razionalità, 1974; Tecnica e cultura. Il dibattito tedesco fra Bismarck e Weimar (editor), 1979; Reale e virtuale, 1992 e 2007; Critica della ragione informatica, 1997; Memoria e Conoscenza. Sulle sorti del sapere nella prospettiva digitale, 2005; Digitale Welt und Gestaltung, 2007; Arte e artefatti. Intervista di Hans Ulrich Obrist, 2010; Tomás Maldonado in conversation with / en conversación con Maria Amalia García, 2010; Cultura, Sociedade e Técnica, 2012.
---