Concha Veneris
The Bounty Killart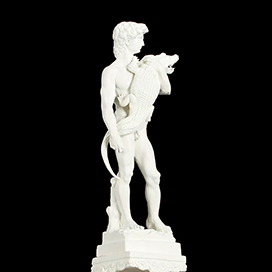 30 settembre – 4 novembre 2011
Inaugurazione: 29 settembre 2011, ore 18
In occasione della loro prima mostra personale i The Bounty Killart presentano presso la galleria Allegra Ravizza Art Project una selezione di suggestive sculture concepite come collage che disorientano lo spettatore.
Fino al 4 novembre, gli spazi della galleria saranno invasi da personaggi della storia passata e presente uniti a elementi di fantasia in un brillante dialogo iconografico.
In questo universo surreale un ruolo di rilievo è occupato dalle citazioni storico-artistiche: accanto a una Venere nascente, botticelliana nella delicatezza e armonia delle forma ma dal volto maschile, appare un carro allegorico che porta in trionfo un santo dalla testa di uccello, una citazione quasi testuale dell'Oedipus rex di Max Ernst, artista con cui i The Bounty Killart condividono la passione erotica e l'intento dissacratore.
La pratica artistica dei The Bounty Killart si identifica dunque in un compulsivo bricolage combinatorio, che ci attrae con un estetica del frammento impreziosita dalla perfezione degli incastri.
Il gruppo The Bounty Killart, composto da Gualtiero Jacopo Marchioretto, Rocco D'Emilio, Dionigi Biolatti e Marco Orazi, si è formato a Torino intorno al 2002.
Recentemente l'attenzione si è focalizzata sul tema dell'oggetto e sulla costruzione di immagini spiazzanti. Sono nati così incisioni, arazzi e sculture geneticamente modificati, soggetti arricchiti attraverso l'innesto di elementi iconografici estranei e spesso decontestualizzati nella storia.